As the only son of the former Guyana and West Indies Wicket-Keeper batsman, the late Clifford McWatt and a son-in-law to the former Barbados and West Indies Opening batsman Cammie Smith, Tony McWatt has enjoyed some very strong family connections to Caribbean cricket. Having himself played Secondary School and Club Cricket for Queen's College and the Georgetown Cricket Club in Guyana's 1st, 2nd and 3rd Divisions, Tony's playing experiences provided the perfect platform for his subsequent evolution as one of Canada's most active and recognized Cricket Journalists.

Tony's career as a cricket journalist, which began in the early nineties, has since expanded to include his coverage of several major global events including the 1998 Commonwealth Games, the 2007 ICC World Cup and the 2018 ICC Women's T20 World Cup. In between he has also covered countless West Indies hosted Test Matches. Tony was recently accorded Media Accreditation for the England hosted ICC 2019 World Cup, the only Canadian journalist to be granted such a privilege.
Tony McWatt's cricketing career has also included several administrative assignments. Tony served as the Ontario Cricket Association's Executive Director from 1992-94, He also functioned as a Marketing Manager for the Toronto and New York hosted North American Series involving representative teams from Pakistan, the West Indies and the Rest of the World. Tony was also appointed as an International Management Group (IMG) Liason for the 1996 (Media) and 1997 (Official) Toronto hosted Sahara Cup matches involving the national teams of India, Pakistan and the West Indies, He was also the West Indies Team's Liason for its 1999 Toronto hosted Friendship Cup Series matches against Indian and Pakistan.
As a Publisher, Tony McWatt has to date produced three cricket magazines. He published the Ontario Cricket Pitch from 19992-1994; Turfscan as North America's Bi-Monthly Cricket Magazine from 1994-96 and most recently Wickets as Cricket Canada's Official monthly magazine. 6 monthly issues of Wickets have been produced to date, online copies of which can be viewed at https://cricketcanada.org/wickets-magazine.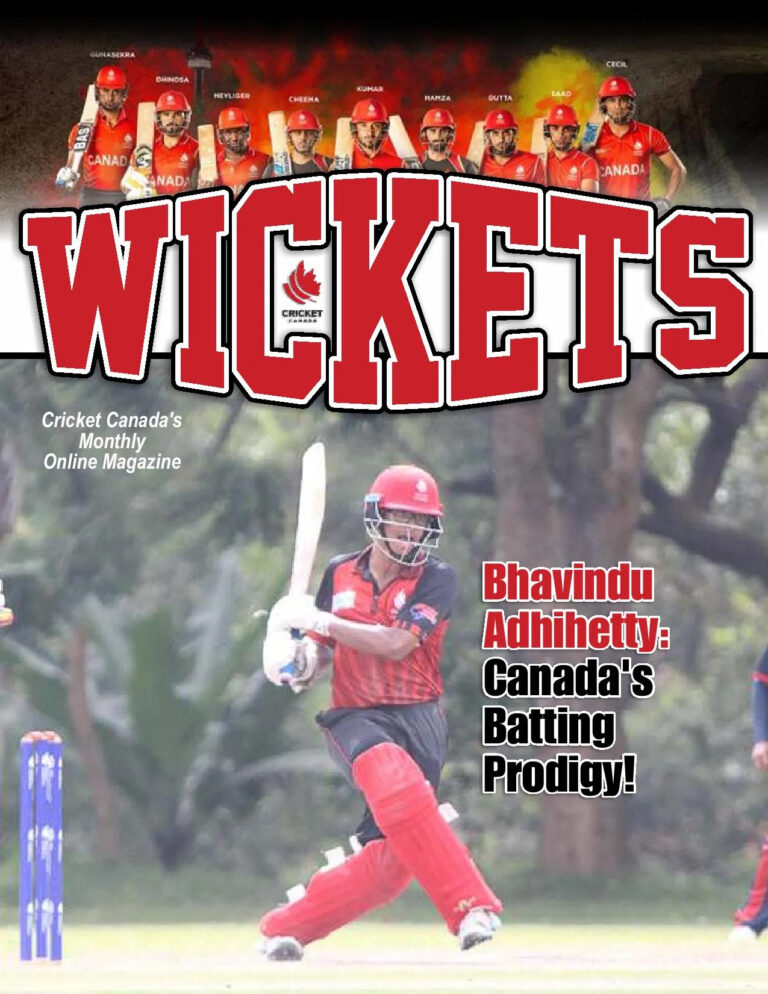 Cricket Canada Wickets December 2018
Cricket Canada Wickets December 2019 Issue featuring Canada's batting prodigy Bhavindhu Adhihetty as its cover.
2019 Promises to be a breakthrough year for Canadian Cricket
Cricket Canada Targeting "Go Canada" Strategic Plan Objectives
Cricket Canada Wickets November 2018
Cricket Canada Wickets November 2018 Issue. Contents include 2018 reviews. Up Close with Navneet Dhaliwal, Canada's rising star.
Canadian Cricket's Most Memorable 2018 Moments
St Lucia Coco Palm Resort Review
Ashtan Deosammy Making A Name For Himself
Challengers Cricket Club Among Alberta's Best
Emerging Windies Stars Secure IPL Contracts
2018 A Very Good Year For Canadian Cricket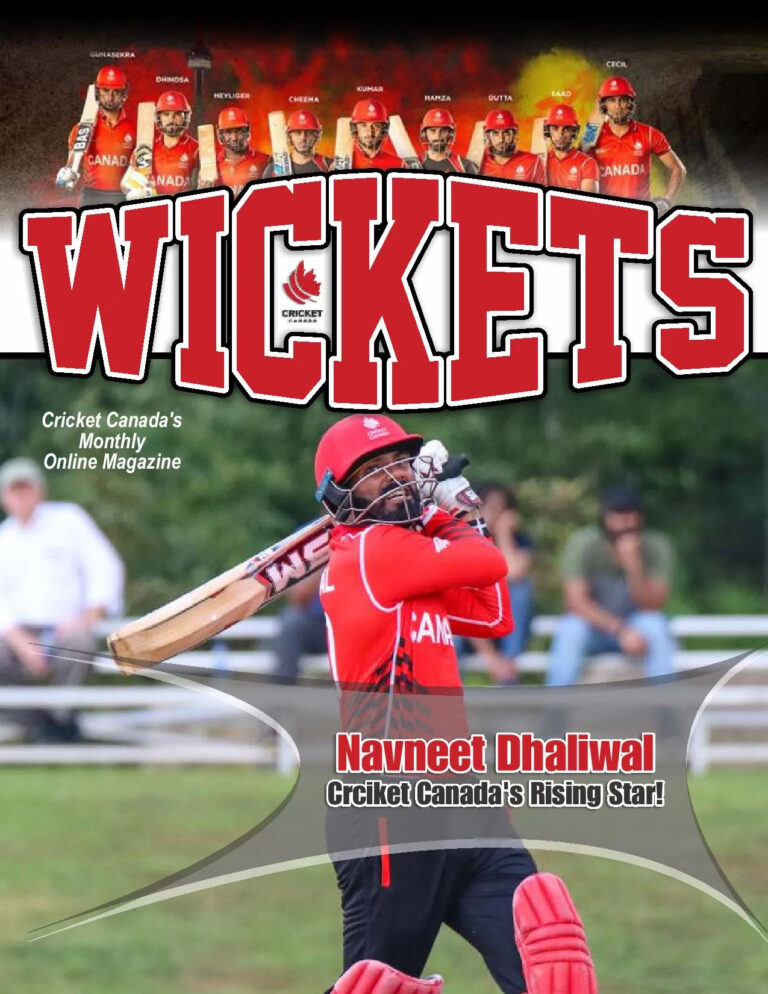 Cricket Canada Wickets October 2018
Cricket Canada Wickets October 2019 Issue. Sri Lankan born Romesh Eranga featured as the cover. Contents include a Lastmonth Lookback at Canada's Caribbean Regional Super50 Performance!
Rashpal Bajwa Cricket Canada's Forward Thinking Board Member 
Australia Crowned ICC Womens World T20 Champs
Insurance Coverag For West Indies Cricketers 
Alima's Roti Candid Camera Photo Competition Winner  
Matthew Rohan Nandu: One To Watch 
Last Month Lookback: Canada at the Caribbean Regional Super50
Cricket Canada Wickets September 2018
Cricket Canada Wickets September 2018 Issue with its Davy Jacobs Cover Feature. Content also includes features on the 2018 Cricketfest Tournament and Marcus Nandu as One To Watch!
Up Close With Canada's New Captain
Marcus Nandu: One To Watch
Cricketfest A Tremendous Success  
Canada's Senior Men's Red Army In Quest For Caribbean Glory
Women's National Championships Successfully Staged!